John Ramsey
From Jonbenet Ramsey Wiki
Jump to navigation
Jump to search
John Ramsey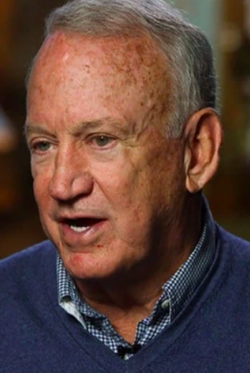 John Ramsey in a media interview
Personal information
Born:
December 7, 1943
Role in the Case:
Victim's father, suspect
Family:
Wife: Patsy
Children: Burke, JonBenet
John Bennett Ramsey is the father of JonBenét Ramsey, a 6-year-old who was found dead in her family's home in Boulder, Colorado, on December 26, 1996. John claimed to have woken up, showered, and then heard his wife scream when she found the ransom note. John said he instructed her to call the police immediately. Around one o'clock that afternoon, he discovered JonBenét's body hidden in an obscure room in the basement.
In 1999 the Grand Jury voted to charge John and Patsy Ramsey with child abuse resulting in death and accessory to first degree murder. The Boulder District Attorney's office refused to take the case to trial.
Personal Background
[
edit
]
Early Life
[
edit
]
John Ramsey was born in Lincoln, Nebraska. He was in the Navy
John Ramsey had an affair which led to the dissolution of his first marriage. Describing this affair in his 1998 police interview, John Ramsey portrays himself as a passive victim in the situation:
"Well, just -- we hired her as a secretary in a small office, and you know, I was vulnerable, but not -- not crossing the line. We were at a Christmas party that this office building had, she said gee, I left something up in my office, do you have a key? And so I went up, unlocked the door and as soon as the door unlocked she turned around and kissed me. And then I just kind of got sucked in. But it was a, just a very strong physical attraction [...] It was one of the things I got into and I couldn't get out. She was extremely aggressive. [...] Our marriage probably wasn't strong or that wouldn't have happened at all, but it certainly ended it. And it was probably the biggest regret I have in my life, but she was a very volatile person. [...] I got rid of her finally. You know I just couldn't, I finally got her to stop pursuing me."
His daughter Beth
Personality
[
edit
]
Text
Involvement in the Investigation
[
edit
]
According to the Ramseys, John told Patsy to call 911. Though Patsy apparently protested that the note said not to speak to police, John told her to call police anyway, according to all three family members. When police arrived, John answered the door and led Officer Rick French through the kitchen to the floor where they had placed the ransom note.
John Ramsey was cooperative while the crime was considered a "kidnapping", though he reportedly prevented police from speaking to Burke, assuring them that Burke didn't know anything and had "slept through the night"[1][2].
After the body was found, John Ramsey immediately attempted to arrange his private jet to fly his family out of Colorado that afternoon. John also refused the police's request to go to a hotel for separate interviews, saying "Just give us a day."
John and Patsy Ramsey did not participate in formal interviews until four months after the crime.
Shortly after those interviews the Ramseys explicitly stated they were no longer willing to cooperate at all with the Boulder Police Department, and would only talk to the District Attorney's office.
Account of Christmas Night
[
edit
]
First Accounts
[
edit
]
In two separate conversations with two separate police officers on the morning of December 26, 1996, John Ramsey claimed he had read a bedtime story to Jonbenet Ramsey before putting her to bed.
Officer Rick French spoke to the Ramseys immediately upon arriving at the house at 6:00 AM, approximately five minutes after the 911 call. Officer French recounted this conversation in his police report, which he typed that same afternoon:
"They told me [Rick French] that they had spent Christmas night with the Whites, and that they arrived home at 2200 hours. Mr Ramsey said that he read to both kids for a short time and then they were in bed by 2230 hours."[3]
At 8:00 AM Detective Linda Arndt arrived at the scene and also spoke to John about the events of the previous night:
"John Ramsey told me [Linda Arndt] that he and his family had been at a dinner party held at the Whites' home on the afternoon and evening of Dec. 25, 1996. John, Patsy, Burke, and Jonbenet had returned home at approx. 2200 hours. John told me that Patsy and Burke immediately went to bed. John had read a book to Jonbenet, tucked her into bed, then John went to bed."[4]
During the following days, John Ramsey resisted attempts by the police to question him in more detail and on the record. When the Ramseys flew out of state just a few days after the crime, Linda Arndt faxed the Ramseys a list of questions in an attempt to get some basic information from them. The Ramseys' lawyers replied tersely to these questions. The only known mention of JonBenet going to bed that night was this:
"The best recollection is that [JonBenet] was wearing long underwear pants and a polo shirt when she went to bed."
The Ramseys would make no further statements about the events of that night for another four months. In their first CNN interview they were not asked about it.
Later Accounts
[
edit
]
Four months after the crime, on April 30, 1997, John Ramsey participated in his first formal police interview. He gave a significantly different story about his final moments with his murdered daughter.
"We probably got home about nineish, nine-fifteen I think, drove in the back through the alley into the garage. Uh, JonBenet had fallen fast asleep. Uh, I carried her inside and took her upstairs and put her in bed, put her on her bed. Uh, Patsy came up behind me, and then I went down to get Burke ready for bed, he was down in the living room. [...] then I took him up to bed and got his pajamas on, probably brushed his teeth, and then I went up stairs from there and got ready for bed."
When asked if he was "in the room when Patsy changed JonBenet into ... her pajamas", John replied "Uh, I don't think I was, no, I don't—".
These statements on April 30, 1997 are the first recorded instance of what became known as the "zonked" narrative: the Ramseys' elaborate story of how JonBenet was put to bed on Christmas night. Prior to that date, neither John nor Patsy Ramsey had made any mention of JonBenet being asleep and carried directly from the car to bed, or remaining asleep while being changed out of her clothing.
John and Patsy Ramsey have maintained this version of the events in all their subsequent interviews.
Explanations for Changing Story
[
edit
]
When asked why his April 1997 story was so different from his previous statements recorded in multiple police reports by multiple officers, John Ramsey said that both officers must have coincidentally misinterpreted his statements.
"What happened was the kids went to bed and then I read to myself in bed [...] I think it might have been, maybe the way I said it, that was misinterpreted, but we clearly did not read to the kids that night.
Others have theorized that the April 1997 story (the "zonked" narrative) may have been devised after the fact, in order to explain why JonBenet was still wearing clothing from the previous day when her body was found.
Suspicion of John Ramsey
[
edit
]
"
If she had been taken to a hospital emergency room, and doctors had seen the genital evidence, her father would have been arrested.
"

–Dr. Robert Kirschner, Deputy Chief Medical Examiner, Cook County, Chicago
The circumstances of the body's discovery, the presence of concealed sexual injuries as well as evidence of prior abuse, the inconsistent nature of John's story and the apparent presence of his clothing fibers in the victim's underwear have led some investigators to suspect John Ramsey of involvement in his daughter's death.
Evidence Potentially Implicating John Ramsey
[
edit
]
His initial claim to have been the last person to see JonBenet alive, and the first one up that morning (a story he subsequently changed)
The presence of fibers from his black wool shirt in JonBenet's underwear
The possible use of his flashlight
His changing stories
His behavior on the morning of December 26 strongly aroused the suspicion of Detective Linda Arndt
The presence of evidence of prior sexual abuse
Testimony from colleagues and housekeepers about his moments of anger
His attempt to leave town by private jet immediately after the discovery of the body
text
After the Murder
[
edit
]
Text
References
[
edit
]