Patsy Ramsey
From Jonbenet Ramsey Wiki
Jump to navigation
Jump to search
Patsy Ramsey
Patsy Ramsey in 1997
Personal information
Born:
December 29, 1956
Died:
June 24, 2006 (aged 49)
Role in the Case:
Victim's mother, suspect
Family:
Husband: John Ramsey
Children: Burke, JonBenet
Patricia Ann Ramsey (née Paugh; December 29, 1956 – June 24, 2006) was the mother of JonBenét Ramsey, a 6-year-old who was found dead in her family's home in Boulder, Colorado, on December 26, 1996. Patsy claimed to have woken up and found a ransom note, and then called 911 after being unable to find her daughter. Her daughter's body was later found hidden in the home.
In 1999 the Grand Jury voted to charge Patsy and John Ramsey with child abuse resulting in death and accessory to first degree murder. The Boulder District Attorney's office refused to take the case to trial.
Personal Backround
[
edit
]
Early Life
[
edit
]
Patricia Ann Paugh was born on December 29, 1956 at St. Joseph's Hospital in Parkersburg, West Virginia. She was the eldest of three daughters born to Nedra and Don Paugh, who raised Patsy and her sisters in a devoutly Methodist household. Patsy attended Emerson Elementary School and Vandevender Junior High. At Parkersburg High School she was involved in a variety of extracurricular activities including cheerleading, band, the drill team, and the forensics team. In her final two years she competed in national speech and debate tournaments. Patsy entered West Virginia University in the fall of 1975, majoring in journalism. She was a member of the Alpha Xi Delta sorority.
Patsy entered her first beauty pageant, a state DeMolay Sweetheart contest, at fifteen years old. She won the Miss West Virginia Pageant at age 20 in June 1977 and competed in the Miss America Pageant in Atlantic City that September.
In 1994 Patsy was diagnosed with Stage-4 ovarian cancer. Patsy Ramsey told police in 1998 that she had suffered panic attacks because of her cancer diagnosis. John said "I have never seen her as scared as she was" ... "It was a tough time for her; very tough."
Patsy Ramsey believed God miraculously cured her cancer.
It was not the doctors that run the place; it's the clerks. And so we started making friends with the clerks and then we got into the system.
Personality
[
edit
]
By all accounts, Patsy Ramsey was deeply anxious about her own mortality. According to John, Patsy "did not know how long she had left". In his Australian radio interview, John Ramsey said the reason Patsy had pushed Jonbenet so hard to do so many things (including "grown up" things like pageants) was because she did not expect to live to see Jonbenet grow up.
Change in Her Personality Before Christmas 1996
Housekeeper Linda Hoffmann-Pugh, who worked in the Ramsey home until three days before the killing, said that "Patsy had become very moody right before Christmas of 1996"[1]:
"I think she had multiple personalities. She'd be in a good mood and then she'd be cranky. She got into arguments with JonBenet about wearing a dress or about a friend coming over. I had never seen Patsy so upset."[2]
Involvement in the Investigation
[
edit
]
Patsy Ramsey was the one who called 911. She immediately called family friends. When they arrived she was reportedly "lying on the floor" in distress. She was described as crying throughout the morning. Sitting in the sunroom with a saucepan because she felt she was going to vomit. When the body was found she exclaimed to Jesus
Her doctor arrived and she was described as too unwell to speak to police. Patsy Ramsey was heavily drugged.
During the months of non-cooperation, Patsy seemed to display some willingness to speak to police on a few occasions. It is unclear if these were genuine.
Account of Christmas Night
[
edit
]
First Accounts
[
edit
]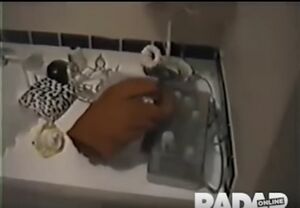 Officer Rick French spoke to the Ramseys immediately upon arriving at the house at 6:00 AM, December 26, 1996, approximately five minutes after the 911 call. Officer French recounted this conversation in his police report, which he typed that same afternoon:
I was concerned with gathering information from Mr. and Ms. Ramsey. They told me that they had spent Christmas night with the Whites, and that they arrived home at 2200 hours. Mr. Ramsey said that he read to both kids for a short time and then they were in bed by 2230 hours. Ms Ramsey said that Jonbenet had been dressed in white long underwear and a red turtleneck.[3]
When JonBenet's body was found, she was wearing a white shirt, the same shirt which she had worn to the Whites' party the previous night.[4] A red turtleneck was found rolled up on the counter in Jonbenet's ensuite bathroom.
When the Ramseys flew out of state just a few days later, Detective Linda Arndt made a desperate attempt to get some basic questions answered by faxing the Ramseys a list of questions. In the brief answers provided by the Ramseys' lawyers, the only known mention of JonBenet going to bed that night was this:
"The best recollection is that [JonBenet] was wearing long underwear pants and a polo shirt when she went to bed."
The Ramseys would make no further statements about the events of that night for another four months.
Later Accounts
[
edit
]
Four months after the crime, on April 30, 1997, Patsy Ramsey participated in her first formal police interview.
Patsy: [We] dropped off a little gift and drove home and JonBenet was asleep. She had fallen asleep in the car.
Officer Trujillo: Did you have to wake her up to get her inside or. . .
Patsy: Well, she was just really zonked and John carried her up to her room. [...] And I uh, you know, ran up behind him and, or in front of him, I can't remember. Maybe, or it might have been in front of him to turn the bed down. And he laid her down and I got her undressed and put her, I left her shirt on her and uh, went in the bathroom and tried to find some pajama pants and all I could find was some, like long underwear pants ... and put those on.[5]
Patsy clarified the "shirt" was a "crew neck and it had a little, little rhinestone, little kind of sequin kind of star thing on it [...] So I just left that on her".[6] This was an accurate description of the shirt JonBenet was found in.
During the interview Patsy emphasized that Jonbenet was "just really zonked ... she was zonked ... she was really zonked"[7]. The Ramseys maintained this version of carrying Jonbenet to bed asleep (the so-called "zonked" narrative) in all their subsequent interviews.
Account of the Morning of December 26
[
edit
]
First Account
[
edit
]
A few minutes after arriving at the scene shortly after the 911 call, Officer Rick French spoke to Patsy Ramsey. Patsy told him she had checked Jonbenet's room before finding the ransom note.
Ms. Ramsey told me that she had gone into Jonbenet's room at about 0545 hours to wake her in preparation for a short trip the family was to take later that day. She found Jonbenet's room empty and then discovered the note as she walked down the stairs. She immediately called the police.[8]
Later Accounts
[
edit
]
In the Ramseys' CNN interview, January 1, 1997, Patsy Ramsey now said she checked Jonbenet's room after finding the ransom note:
I just gotten up. We were on our -- it was the day after Christmas, and we were going to go visiting, and it was quite early in the morning, and I had got dressed and was on my way to the kitchen to make some coffee, and we have a back staircase from the bedroom areas, and I always come down that staircase, and I am usually the first one down. And the note was lying across the -- three pages -- across the run of one of the stair treads, and it was kind of dimly lit. It was just very early in the morning, and I started to read it, and it was addressed to John. It said "Mr. Ramsey," And it said, "we have your daughter." And I -- you know, it just was -- it just wasn't registering, and I -- I may have gotten through another sentence. I can't -- "we have your daughter." and I don't know if I got any further than that. And I immediately ran back upstairs and pushed open her door, and she was not in her bed.[9]
In her first police interview on April 30, 1997, Patsy repeated this account:
Patsy: we got up at about 5:30, I think. I think John got up first and I got up just right behind him and he went to his bathroom and shower. I went to my bathroom. I did not shower that morning and I just put my clothes on and uh, did my hair and makeup and uh and then I started down the stairs, John was still in the bathroom and went uh, I stopped kind of briefly there in the laundry room area um, and I remember the ironing board was up I think and I fussed around with this little red jumpsuit of JonBenet's cause it had, had some spots on it and I was going to remember to do something with that when I got back and uh, so I had, I had the light on in there in the laundry room area and uh, um then I started down the spiral staircase there. I came, I had come back down, I'd come down the back bedroom stairs there ... from my bathroom. Um, I started down the spiral stairs and when I got nearly to the bottom I saw these three pieces of paper, like notebook size paper, on, on the run of the stairs and uh, I went on down and turned around and started reading, reading it. ... And uh, I, I remember reading the first couple of lines and I kind of, didn't know what it was or uh, and then I (inaudible) you know after the first couple of lines I, it dawned on me, it said something about, 'We have your daughter' or something ... And I uh, I ran back upstairs and pushed open the door to her room and she wasn't in her bed.[10]
Suspicion of Patsy Ramsey
[
edit
]
"
The district attorney and his top prosecutor, two police chiefs, and a large number of cops, although so at odds on some points that they almost came to blows, all agreed on one thing—that probable cause existed to arrest Patsy Ramsey in connection with the death of her daughter.
"

–Steve Thomas, JonBenet: Inside the Ramsey Murder Investigation
The circumstances of the body's discovery, the inconsistent nature of Patsy's story, the apparent similarities between her handwriting and the ransom note, the almost exclusive use of her household possessions in the commission of the crime, the presence of her clothing fibers on the murder weapon and other items used in the crime, and the testimony of some who knew Patsy, have led some investigators to suspect Patsy Ramsey of involvement in her daughter's death.
See the Theories Page for a listing of PDI ("Patsy Did It") theories.
Evidence Potentially Implicating Patsy Ramsey
[
edit
]
The presence of fibers from the jacket she wore on the night of the killing [...]
The use of Patsy's paintbrush
The use of Patsy's notepad and the presence of five of her fingerprints on that notepad.
The use of underwear which Patsy had bought for a relative and was intending to gift-wrap for that relative.
Patsy's claim to have discovered the ransom note while nobody was looking
Patsy's changing story about the underwear, the red turtleneck, the discovery of the ransom note [...]
Several handwriting analysts have expressed that they believe Patsy wrote the ransom note, and not even the two analysts hired by her defense team were prepared to eliminate her.
Testimony of former housekeeper Linda Hoffmann-Pugh
The presence of Patsy's fingerprint on the bowl of pineapple.
The presence of two of Patsy's palm prints on the wine cellar door.
The apparent placement of the ransom note on the spiral staircase--a location where Patsy used to leave notes for her housekeeper--rather than in a more prominent place in the home such as the main staircase.
The fact that Patsy hang up on the 911 call.
Some consider statements made during the 911 call such as "we have a kidnapping" and calling herself "the mother" to be an indication that Patsy was lying.
Patsy's distraught and traumatized behavior on December 26, which some say indicated grief, even before the discovery of the body.
Patsy's unprovoked utterances to police that she did not kill her daughter.
The fact that she did not search the house for her missing daughter.
After the Murder
[
edit
]
Text
References
[
edit
]