Main Page
From Jonbenet Ramsey Wiki
Jump to navigation
Jump to search
Case Overview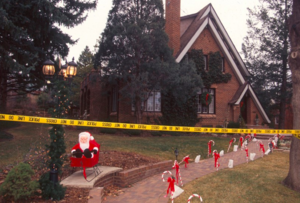 On December 26, 1996, six-year-old
JonBenét Ramsey
was found dead in her family's home in Boulder, Colorado. Her parents,
John
and
Patsy Ramsey
, had reported her missing early that morning. Patsy Ramsey claimed to have found a lengthy handwritten
ransom note
in the house, addressed to John from a "foreign faction". Approximately seven hours after police arrived to investigate the kidnapping, the child's body was found hidden behind a latched door in the basement of the home.

JonBenét had been strangled with a "garrote" made out of a cord and a broken paintbrush from Patsy's nearby paint-tray. The autopsy later revealed she had a skull fracture, as well as chronic and acute injuries to her genitals which had been concealed by wiping.

The crime is still unsolved and remains an open investigation with the Boulder Police Department. Despite claims that the Ramseys have been exonerated, the Ramsey family remains officially under suspicion.